Cabins
Log Cabins and Accommodations
Since the Millar's have been using this area as our mine camp for over 30 years, our facilities are quite comfortable and in 1998 we added four log cabins for our traveling guests looking for something more authentic for their northern adventure.
Sleeping arrangements vary by cabin:
Cabin 1 sleeps 4   double bed/ single bunk beds (propane heater)
Cabin 2 sleeps 4   double bed/ single bunk beds (wood stove)
Cabin 3 sleeps 3   single bed/ single bunk beds (wood stove)
Cabin 4 sleeps 4   queen bed/ single bunk beds (really big wood stove)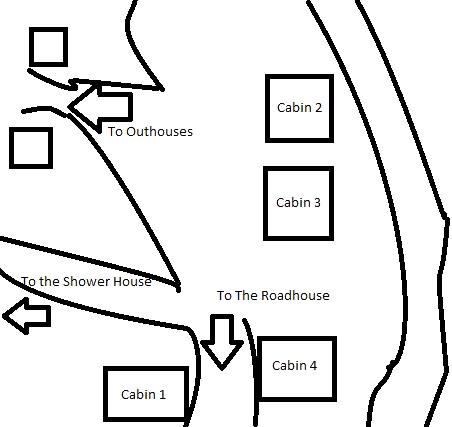 We have a regular type hot water shower house or a sauna for our guests use and "the facilities" are outhouses. Electric power is provided by our own generator, and we don't use it often, preferring the natural sounds of the birds and bees and water and trees.
If you have buy levitra prices goodrx your own "home on wheels" and would like to stay overnight, please talk to us when you get out to camp, or contact us via the most convenient method for you.
The Family lives on-site or near-by (1 km) during the season, there will be someone about to show you around and ensure you're settled in.
Facilities
Cabins come equipped with everything you will need for your stay *EXCEPT -> groceries and personal items.*

Each 12 x 14 ft. log cabin has its own wood stove (one with propane heat), propane camp stove and BBQ, pots/pans, dishes, cutlery, linens (bedding and towels), basic kitchen supplies (salt/pepper, coffee/tea, sugar/whitener) candles/lanterns, campfire pits, picnic tables, chairs, porch & rain barrel, camp coolers for refrigeration * BRING ICE, groceries and personal items!*
We charge $100.00 for the first two people and the cabin and then $10.00 each additional person per night.
Mine Tour and panning NOT included! See packages.